Intel Inside Stickers with Intel logo are almost ubiquitous on PCs manufactured using Intel processors on the motherboards. You also get a "peel off and apply" label or sticker with every purchase of a separate Boxed Intel processor.
These stickers serve no purpose except for letting the customers know that their motherboard has an intel processor. It also has the processor series information (i5, i7 etc.) printed on it, sometimes along with its generation and number of cores.
There are users and even some manufacturers, who hate these stickers for ruining the look and aesthetics of their computer. In fact, Apple used intel chips in its older lineups, but refused to paste these stickers on their Mac's palm rest.
However, there are users who are so used to seeing these stickers on their computers that its absence feels as if they have a car without headlights. Then, there are those who have replaced their keyboard or palm rest losing their sticker. Also, these stickers are almost impossible to peel off without damaging it in some way.
If you can't live without this sticker and want to buy a replacement then you must know that Intel doesn't sell them separately. So, all those websites selling genuine Intel stickers are probably selling a fake copy for an exorbitant price.
However, this doesn't mean that you can't get a genuine Intel Inside sticker. You don't have to look elsewhere as you can get it shipped straight from Intel.
How to get a New & Genuine Intel Inside®™ Sticker
To get an Intel sticker you would have to provide a proof of ownership to Intel before they acknowledge your request for the label. This proof of ownership can be an Invoice or Purchase receipts with all the relevant information about the machine like serial number and processor type.
You can also send Online Purchase receipt in the soft copy formats like PDFs with all the relevant information.
To Request a new Intel Sticker or Label and to upload a photograph of the purchase receipt or the Invoice PDF; use the link given in the following Intel Support webpage.
Intel Processor Label Replacement
Fill all your personal details in the Label Replacement form and attach the photos or PDF Invoice of your purchase receipt.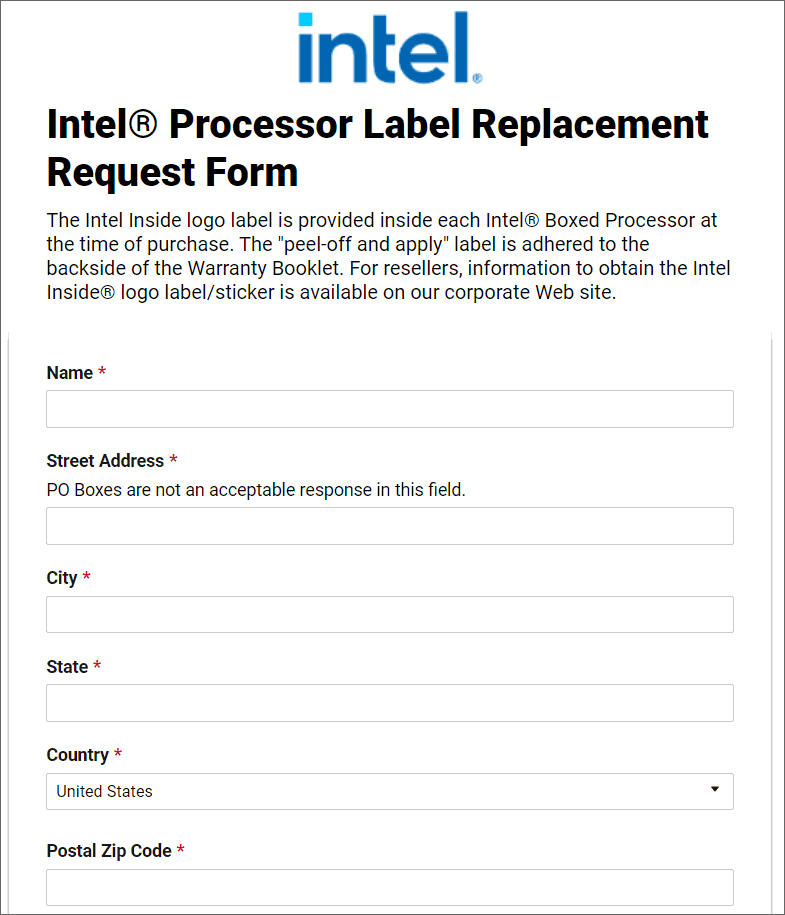 The Intel Sticker or label would be shipped to the address you provide in this form. Fill all the details carefully and Click on Submit to send your request.
Don't Have Purchase Receipt or Ownership Proof
However, if you do not have the Purchase receipt or any kind of Ownership Proof then you would have the option of uploading the results of Intel® System Support Utility.
This is a tool from Intel that would scan your Computer and gather all the details about your system, like the processor information, its serial number, the manufacturing date etc. You can download this tool from the following link.
Intel® System Support Utility for Windows*
You can Download and Run this tool straightaway as it doesn't need installation. Select all the checkboxes and then click on Scan to start the scanning.
It would scan your system and gather all the information. Click on Next and then Choose the Save option on the next screen.
Save the report by giving it any name like System Report. The Report is saved in the text format as a .txt file.
You can upload this Text file in place of the purchase receipt.
After submitting the form you can wait for a couple of days then you would receive an email from Intel, acknowledging your request. They may ask you for more information and the reason for requesting the label. It is entirely at their discretion to accept or reject your request for the label.