Windows 10 lets you activate Mobile Hotspot on your notebook or desktop PC's for sharing your internet connection. Your laptop's wi-fi adapter can be used as a hotspot for providing wireless internet access to other laptops or mobile devices.
You have to set your Network name or SSID and protect the hotspot with a password and you can connect upto 8 devices to your laptop's hotspot.
This is a useful feature, especially in situations when your friends or family members need access to your internet and you don't remember the wi-fi router's password or you don't want to share the password for some reason. 
For this feature to work your laptop PC should be connected to either Ethernet cable internet or to your Wi-Fi router. The devices connecting to your laptop PC's hotspot would basically be using your main internet but your PC would act as a proxy.
This feature can also be used as a range extender for your main wi-fi router. You can place your laptop at the periphery of your wifi router's signal radius and now your laptop can help in connecting other devices located outside of that radius.
How to activate Mobile Hotspot in Windows 10 ?
Step 1
Go to the Start menu and then click on Settings.
In Settings, click on Network and Internet.
Step 2
In Network  and Internet Settings, click on Mobile Hotspot in the left panel. This will open the Mobile Hotspot settings. 
Under the dropdown list titled Share my Internet connection from, either select Ethernet if you are connected with Ethernet cable or select Wi-Fi if your laptop is connected to your Wi-Fi router.
Step 3
Click on the Edit button to change the default Network name and password. In the Edit network info dialog, enter the Network name. Enter a password in the next box and make sure that it's at least 8 characters in length.
For Network band, you can select Any available. Finally, click on Save button to save the details of your hotspot
Step 4
Now, after saving the Hotspot settings, toggle Share my Internet connection with other devices to On. Scroll down and toggle Power Saving to On.
You have enabled Mobile Hotspot on your Windows 10 computer. Now you can connect your mobile devices to your laptop to access the internet. Scan for available Wi-Fi networks on your mobile device or laptop. Enter the password and tap on connect.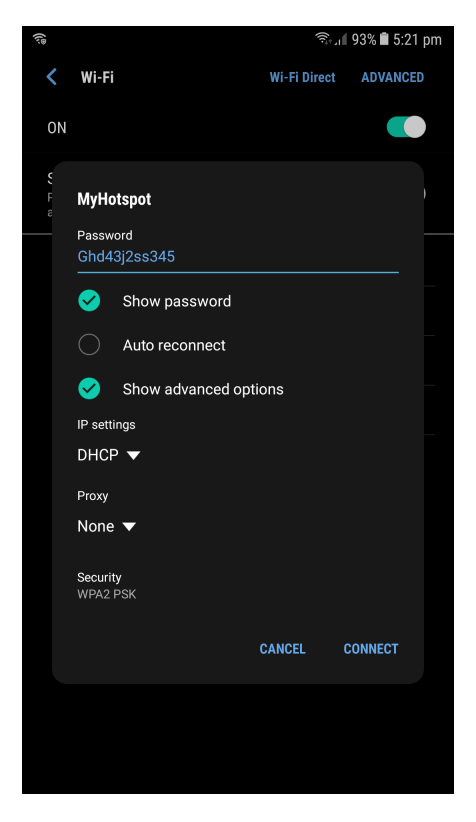 The Mobile hotspot settings page will show you the list of all the connected devices along with their assigned IP and MAC address.
Go back to the Settings page to disable the Hotspot or windows would automatically switch it off if no device is connected.