Microsoft's search engine, Bing has a great collection of pictures and photos from around the world which have featured as Image of the Day on Bing's search homepage.
Microsoft now allows you to download these images and use them as your desktop wallpapers. However, if you are too lazy to change your desktop wallpaper manually then you can use Bing Wallpaper app from Microsoft which would automatically set a new wallpaper for you every day.
The Bing wallpaper app would fetch a fresh photo from Bing's homepage and apply it to your desktop as background. Your PC should be connected to the internet for the app to work.
It would also display a small snippet with information about the wallpaper in the system tray. Moreover, you also get wallpapers of previous 5 dates, which were featured on Bing's homepage.
RELATED: How to Save the Lock Screen Wallpapers in Windows 10 to your PC
Installing Bing Wallpaper app
You can download the Bing wallpaper app from its official page. Go to the following link and click on Install now to download the executable file.
https://www.microsoft.com/bing/bing-wallpaper
Run the BingWallpaper.exe file you downloaded.
Uncheck the boxes saying Set MSN as my homepage and Set Microsoft Bing as my default search provider, if you don't want to set Bing search as your homepage. Click on Install now.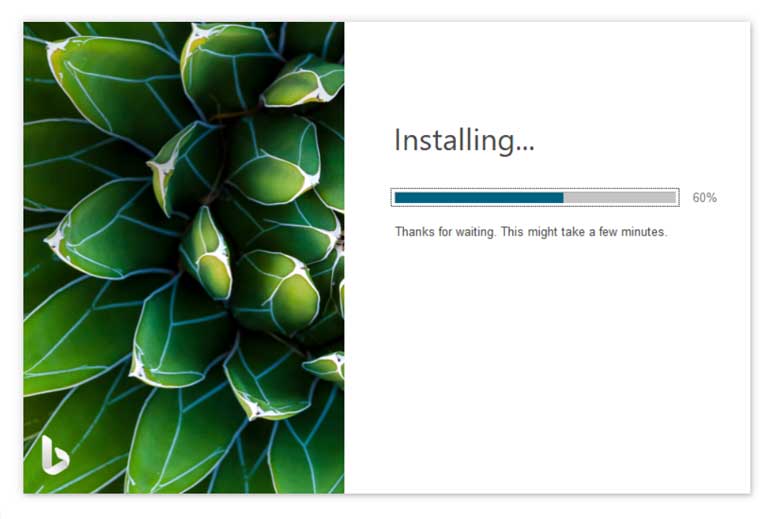 After installing, Bing wallpaper would set the photo from Bing's homepage as your desktop background.
You can access the app settings from the system tray. Go to the app setting and Enable daily refresh if it's not already enabled.
Now, the app would automatically change the wallpaper when it detects a change in the system's date. Click on the arrows next to Change Wallpaper to choose from wallpapers of the previous five days.
You can also access the wallpapers of previous 5 days by right clicking on the desktop and selecting Personalize from the context menu or by Going to Settings > Personalization > Background.